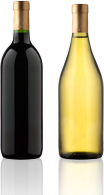 Eco-Glass™ is an innovative, lightweight wine bottle that was designed with one thing in mind: sustaining our environment. It is made with 25% less glass than your average wine bottle and because it weighs significantly less, it also requires much less fuel to transport and produces less carbon dioxide.

Click here to learn more.

Carbon footprint refers to the amount of carbon dioxide
that goes into our atmosphere as we go about our daily
lives. The concept is simple: the smaller our carbon
footprint, the more sustainable our environment.

Click here to learn more.